Every item in Blossom & Decay has a weight and there is only a limited amount of weight a character can carry without being overloaded. Currently a characer becomes overloaded when the carried weight exceeds 200 units. This results in slowdown paired with a steady loss of stamina while moving and therefore is a potentially dangerous condition.
Weight Load Mechanics
The actual weight mechanics formulae were not known from the developers and therefore had to be found out by reverse engineering, but are now confirmed with exact values from the developers. The model for stamina change rate SCR while moving with weight w and healthy vital values (satisfied hunger, thirst, sleepiness and temperature) looks like this: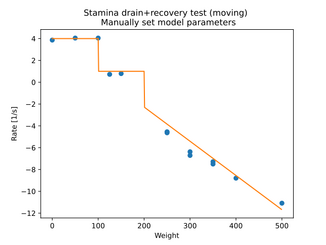 SCR(w) = SRR - SDD(w) ,
where:
Stamina recovery rate: SRR = 4
Stamina drain rate: SDR(w) =
0 , w <= 100
3 , w <= 200
8 * w / 255 , otherwise
The plot on the right shows the exact model compared to the original in-game data.
Table of Weights
The following tables contain all known weights of items (some possibly not up-to-date):
Inventory Items

| Item Name | Weight |
| --- | --- |
| Feather | 0.01 |
| Gem | 0.1 |
| Herbs | 0.1 |
| Poppy | 0.1 |
| Salt | 0.1 |
| Sugar | 0.1 |
| Mushrooms | 0.5 |
| Drinks | 1 |
| Grilled meat | 1 |
| Ingredients | 1 |
| Seeds | 1 |
| Blueberries | 2 |
| Charcoal | 2 |
| Dead Beetle | 2 |
| Flint | 2 |
| Hide | 2 |
| Leather | 2 |
| Potions | 2 |
| Raw Vegetables | 2 |
| Reed | 2 |
| Small Food | 2 |
| Sticks | 2 |
| Thread | 2 |
| Wool | 2 |
| Medium Food | 3 |
| Large Food | 4 |
| Advanced Food | 5 |
| Empty Bucket | 5 |
| Baked Beans | 6 |
| Cloth | 6 |
| Metal bar/ore | 6 |
| (Baked) Potato | 6 |
| Stone | 6 |
| Wood | 6 |
| Filled Bucket | 20 |
| Juice | 20 |
Gear Items

| Item Name | Weight |
| --- | --- |
| Stone Arrow | 2 |
| Boomerang | 5 |
| Bracelets | 5 |
| Cloaks | 5 |
| Crossbows | 5 |
| Lasso | 5 |
| Staves | 5 |
| Thick Cap | 5 |
| Wreaths | 5 |
| Axes | 10 |
| Iron Hook | 10 |
| Light Helmets | 10 |
| Staff of Life | 10 |
| Swords | 10 |
| Hammers | 20 |
| Heavy Helmets | 20 |
| Chain Mails | 30 |
| Gambesons | 30 |
| Light Armors | 30 |
| Heavy Armors | 60 |
Deployable Items

| item Name | Weight |
| --- | --- |
| Campfire | 10 |
| Cauldron | 10 |
| Tent | 10 |
| Kitchens | 20 |
| Stone Floor | 20 |
| Barrel | 40 |
| Bed | 60 |
| Guard Tower | 120 |
| Hut | 120 |
| Palisade | 120 |
| Workshop | 120 |